Links to LE threads on Psyche:
Beads & Info by Amy Houston
My notes on Psyche:
- let it cool until it stops glowing, THEN put it in the reduction flame
- it actually seems like the reduction happens before the bead really starts to heat back up again. Maybe this is because it just isn't VISIBLE once it starts glowing, but I found that by just gently waving it into the flame, I saw the metallic luster build up very fast
- I did several passes today, for the most part not letting the bead really heat up again during the reduction part
- I wonder about where in the flame is the best for reducing. Is it further out, or right in the cone, or what? I think I've figured out how to get the O2/propane mix right for reducing, but not sure where is BEST to do it. At least I am getting some results.

Black base with psyche, and clear stringer applied in random patterns.

Here are two psyche beads. The left is encased, the right not (they were basically the same before encasing). Encasing drastically changes the result! The unencased version, apart from being a gorgeous colour, is very metallic looking. Looks like shiny oil. Very excited about this! The encased look is quite nice and interesting as well.

Psyche on top of… light purple? dark purple?

A few beads with psyche on top of a light purple base.

Here are two examples of psyche coming out too dark. The first was using psyche stringer on black, encased with clear, then pressed. I think if I had covered a bit more of the base with stringer decoration, and reduced it more, it might have popped better. The second was a psyche base with translucent stringer, covered with clear. I think I just didn't reduce it enough.

This is an example of psyche looking almost pastel-y. This is what seems to happen if I reduce too fast. If I remember right, what I did for this on was make a base bead with psyche, put some translucent blue stringer on and melt in, let it cool until not glowing, and then heat it up real fast in a reducing flame. Then encase.

Here are two beads made with psyche using the technique described above. The one on the left is encased in light purple, the one on the right is encased in clear (I'm not sure which clear).

And here are two more psyche beads using different encasings, and a different reduction technique. These ones were reduced slower. The base bead of psyche with translucent blue stringer was done the same, and again it was let to cool until the glow was gone. But this time, instead of heating them up super fast in a reducing flame, I put it in until I saw the surface start to react, then pulled it out, and repeated a few times (without really cooking the bead). The first bead was encased in clear, the second in crystal green (a very pale transparent green). They were then both rolled in a strip of silver foil, which I basically burned right off (my technique for foil is to roll the bead in it, rub it into the marver to really attach it, let it cool, and then waft it in the outer part of the flame until the actual foil is gone, and what remains is little droplets of silver and a burnished look). What is interesting is that the silver reacted with the crystal green to give a yellowy look, I didn't really like it that much. I preferred the clear encasing.

Celadon on top of psyche (the main green part of the bead is some sort of pastel green, not sure which one)… reduced.

Psyche on top of 034 light aqua. Decorated with clear stringer and then reduced.
Beads & Info by Billie Jean Little
I love Psyche!!!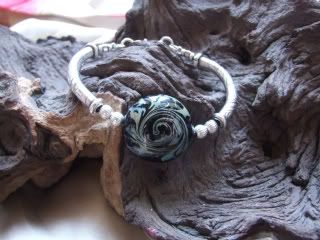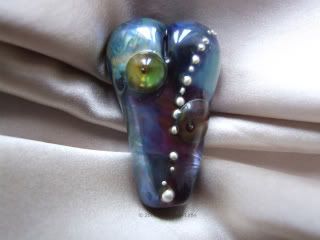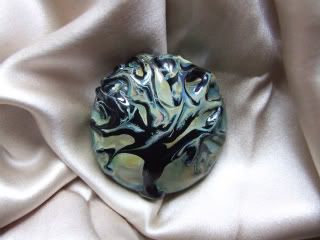 Info by glassworks
try a thin strip over a base bead of ivory, then encase and strike… gorgeous greens/blues with a darker "reaction" edge… make great "surfer" beads – even boys can do it!!